As I begin this blog, a lot of ideas and thoughts have been running through my head. My first instinct was to write about my early days using technology. My second though was to start with a thank you post – thanking the many people who have inspired and encouraged me in my journey. I have decided that I will start with my history with technology as it may take a while to compile my thank you list.
A little bit about me. Being a left handed male, I was very proud to receive a prize for penmanship in Grade 2. Sadly, my hand writing skills have gone down hill from that point in time. Writing has always been a challenge, and the thought of editing my scribble was not one I cherished. It wasn't until my early days in university that I saw my first computer in the library at Mount Allison University.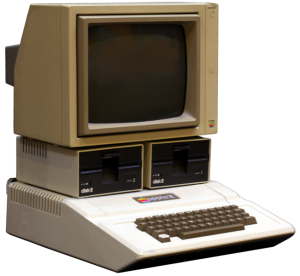 There it was, the magical Apple II computer I had heard about, but had never seen. And left in the wide open for all to use. There were a few hand written instructions about inserting a disc, and how to turn on the computer. I was soon to discover the meaning of syntax error. And so began my journey with technology  ….