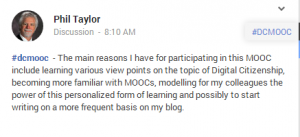 I suppose I have been spending too much time with micro blogging via Twitter (please check out the link at the top of this site for my Twitter Stream). It is about time that I come back to this blog on a more regular basis to focus on the reflective aspect of being an educator.
There was quite a buzz in my Twitter feed early last week about a new MOOC on the topic of Digital Citizenship – #DCMOOC, being hosted in my neighbour province of Saskatchewan. As my school is expanding our 1-to-1 program from Grade 5 and 6 this year to include Grades 7, 8, and 9 next year – it is essential to have a firm grasp on the topic. My school has spent a significant amount of time researching this foundational topic in preparation for our 1-to-1 program. I am looking forward to hearing what others have found and of course will be sharing items that we have found of value. Here are some links on Digital Citizenship via a search of my Diigo links.
As you can see in the image above, writing more frequently in this blog is one of my goals for participation in the MOOC. We are coming to the end of Week 1, but it is not too late to join as the #DCMOOC site has a lot of resources and archive materials. Please refer to this page on the #DCMOOC site for more details of the weekly breakdown of  topics.
As noted on the Content Overview page:
What topics will be discussed?
"Digital Citizenship" is a broad term that encompasses the responsibility of educators and parents to help prepare students for a society full of new and emerging technologies and the ethical, social, and learning problems that emerge. Some of the topics that will featured in #DCMOOC will include:
the 'dark side' of the Internet, including inappropriate content, cyberbullying, Internet scams, issues of privacy, and other questionably ethical/legal activities;

popular teen social networks and mobile apps, and the related issues of digital footprint, digital identity, netiquette, and online professionalism;

understanding literacy in an information and media-rich environment;

effectively using technology in teaching and learning to connect students through social, mobile, and collaborative technologies; and

empowering students to better understand the responsible use of new technologies, to develop a positive digital identity and to improve their world.
Looking forward to this learning opportunity.
Cheers,
Phil