The two web tools described below were my first steps in harvesting and sharing all the wonderful information that can be found on the web. To borrow a phrase, finding information on the Internet is like drinking from a fire hydrant. Diigo allows me to have all my links in "the cloud" and in a searchable format, and a Wikispaces powered wiki was the first place that I tried to organize and save my favourite resources.
Diigo: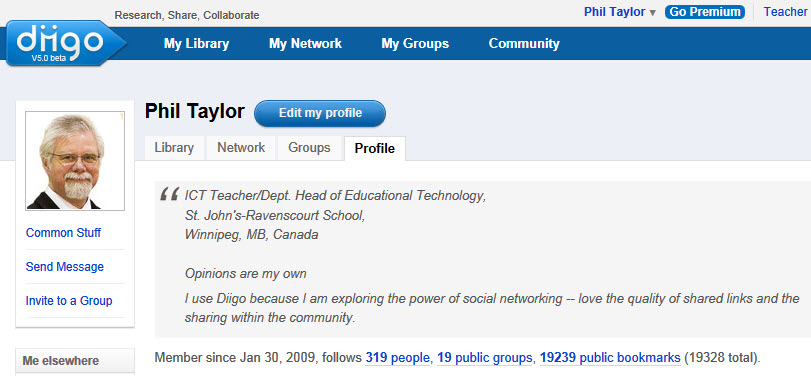 Diigo was the first "social networking" tool  I started to explore.  A special thanks to John Evans (@joevans – for you Twitter folks)  who introduced me to this great tool. At some point I must do a blog post about the power of Diigo as a personal productivity tool and its educational applications.
In the meantime, here are some links to Diigo assets that I have developed over the past few years:
Wikis:
This site is an ever evolving resource of Educational Technology ICT tools to help enhance the teaching and learning that goes on in our classrooms. I created this wiki for two reasons. One was to learn how to use wikis – nothing like jumping in and getting your feet wet. The second reason was to provide a collaborative space to share resources about ever expanding variety of tools that can be used in the classroom.
I was sorry to learn recently that wikispaces will be closing down soon. I am grateful to the folks at wikispaces who provided free accounts for education.